History
Formed in 1936, the National Junior Classical League (NJCL) is an organization of junior and senior high school students sponsored by the American Classical League. Composed of local and state/provincial chapters across the United States, Canada, and Australia, it is the largest Classical organization in the world today with over 50,000 members.

The earliest recorded JCL chapter in Virginia was sponsored by Flora Lynn at Clifton Forge High School in 1952. Over the next decade, the Torch: US contained many references to the activities of various Latin programs and JCL chapters across the state. The 1961 NJCL convention was the first to be attended by delegates from Virginia, with a delegation totaling six in number.

During the first half of the 1960s, Virginia state conventions spanned one Saturday morning and consisted primarily of electoral procedures. The late 60s and the 70s saw many changes and firsts for Virginia: the state convention was extended to a span of two days; various tests were added to the VJCL canon; in May 1971, the Collegiate School of Richmond hosted the first Certamen tournament in the country; and the summer of 1972 saw the first national convention hosted in Virginia.

The 80s brought with them great increases in VJCL membership, the addition of several competitions, a move to the Greater Richmond Convention Center, where VJCL conventions are held today, and the first annual Virginia Governor's Latin Academy, held in 1988. The 90s saw similar growth and success.

Today, the Virginia Junior Classical League enjoys great popularity, with over 100 chapters and thousands of delegates. As we progress through the 21st century, we look forward to seeing similar growth and success across the state.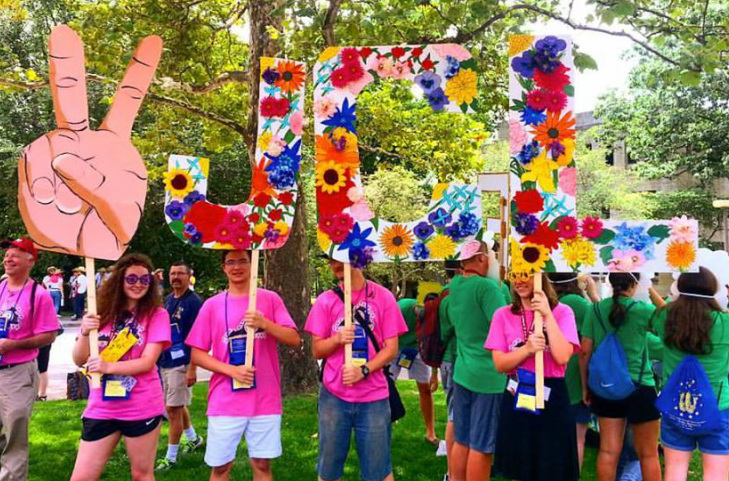 Past VJCL Officers
2016-2017
President: Alyssa Funai
1st VP: Douglas Griffin
2nd VP: Robert Kim
Secretary: Emily Wang
Parliamentarian: Kashi Nikore
Editor: Sayeed Akhtar
​Historian: Merritt Schwartz

2015-2016
President: Alex Smith
First VP: Mariha Junaid
Second VP: Lucas DuMez
Secretary: Alyssa Funai
Parliamentarian: Lia Warner
Editor: Ryan Klopp
Historian: Megan Milner

2014-2015
President: Wyatt Joyner
First VP: Alex Smith
Second VP: Trini Kechkian
Secretary: Ann Bailey
Parliamentarian: Andrew Zazzera
Editor: Mitchell Doyle
Historian: Jessica Hu

2013-2014
President: Brier Clough
First VP: Grace McIntire
Second VP: Daniel Marshall
Secretary: Thienson Nguyen
Parliamentarian: Chris Parios
Editor: Priya Gill
Historian: Jeong-In Seo

2012-2013
President: Anwar Omeish
First VP: Abigail Gershman
Second VP: Brier Clough
Secretary: Natalie Revers
Parliamentarian: Tashi Treadway
Editor: Erika Weiskopf
Historian: Sherry Lee

2011-2012
President: Evan Draim
First VP: Conor Ginnell
Second VP: Paige Receveur
Secretary: Margaret Schaaf
Parliamentarian: Morgan Cheatham
Editor: Nizar Zahed
Historian: Nora Okoth

2010-2011
President: Akhila Ananthram and then Morgan Locks
First VP: Morgan Locks and then Cody Lyon
Second VP: Hannah Tufts
Secretary: Allison Xu
Parliamentarian: Amanuel Mekonnen
Editor: Ratna Gill
Historian: Shannon Berenbaum

2009-2010
President: Kelsey Coia
First VP: Yasmin Rafiq
Second VP: Sarah Keith
Secretary: Jake Didinsky
Parliamentarian: Alex Lichtenstein
Editor: Amith Ananthram
Historian: Sahithi Akula

2008-2009
President: Christopher Kilgore
First VP: Bryan Kauder
Second VP: Muhammad Ali Chohan
Secretary: Ingrid Heidelberger
Parliamentarian: Frank Miller
Editor: Sarah Keith
Historian: Megan Ledoux

2007-2008
President: Erika Davis
First VP: Kelly Lawer
Second VP: Kenneson Chen
Secretary: Jessica Truong
Parliamentarian: Maya Wei
Editor: Erik Fredericksen
Historian: Amanda Haislip

2006-2007
President: Michael Velchik
First VP: Deeva Shah
Second VP: Maggie Marshal
Secretary: Rena Glavas
Parliamentarian: Toni Carroll
Editor: Ashley Oliver
Historian: Erika Anne Davis

2005-2006
President: Barret Sowers
First VP: Caleb Holland
Second VP: Alex Cronin
Secretary: Sara Van Dyke
Parliamentarian: Jenny McCarter
Editor: Ashley Oliver
Historian: Erika Anne Davis

2004-2005
President: Elaine Bigelow
First VP: Elizabeth Taylor
Second VP: Ellison Jusino
Secretary: Allison Rowe
Parliamentarian: Nikki Carroll
Editor: Jenny McCarter
Historian: Rachel Nablo

2001-2002
President: Kelly DuBois
First VP: Peggah Sadeghzadek
Second VP: Stephen Dowell
Secretary: Christina Adkison
Parliamentarian: Rachel Beaton
Editor: Evan Fulmer
Historian: Allison Muth

2000-2001
President: Edward Jusino
First VP: Meghan Robertson
Second VP: Catherine O'Brion
Secretary: Emily Somerville
Parliamentarian: Michael Love
Editor: Amanda Whiddon
Historian: Stephen Dowell

1999-2000
President: Edward Jusino
First VP: Ben Hicks
Second VP: Kim Goumenis
Secretary: Emily Somerville
Parliamentarian: Dale Parker
Editor: Meghan Robertson
Historian: Amanda Whiddon

1998-1999
President: Keith Parker
Parliamentarian: Edward Jusino
Editor: Lloyd Miner
Historian: Beth Taylor

1997-1998
President: Keith Parker
Vice President: Remi Smith
Secretary: Kristen Boose
Treasurer: Katie Mattin
Parliamentarian: Jacob Konick
Editor: Lloyd Miner
Historian: Beth Taylor

1996-1997
Historian: Kelly Robertson

1995-1996
President: Jessie Barba
Vice President: Danielle Boone
Secretary: Rishi Puri
Treasurer: Emily Jusino
Parliamentarian: Nick Konick
Editor: Luigi deGuzman
Historian: Kelly Robertson


1994-1995
President: Michele Lee
Vice President: Sara Zablotney
Secretary: Christine LePrell
Treasurer: Jameson Strassborg
Parliamentarian: Leigh Caraher

1993-1994
President: David Lee
Vice President: Meredith Fascett
Secretary: Evangeline Su
Treasurer: Ari Weinberg
Parliamentarian: Brad Rosenthal

1992-1993
President: David Lee
Vice President: Meredith Fascett
Secretary: Evangeline Su
Treasurer: Ari Weinberg
Parliamentarian: Brad Rosenthal
Editor: William Homiller
Historian: Welby Lynn

1991-1992
President: David Bloch
Vice President: Kip Reed
Secretary: Linwood Muire
Treasurer: Lee Lindsey
Parliamentarian: Chris Peterson
Editor: Jimmy Bush
Historian: Tom Rust

1990-1991
President: Jason Manarin
First VP: Jennifer Blankinship
Secretary: Amy Jones
Treasurer: Candy Smith
Parliamentarian: Logan Smith
Editor: Rebecca Benefiel
Historian: Elizabeth Compton

1989-1990
Editor: Laura Van Zandt
Historian: Robbie Taylor

1988-1989
President: Josh Minwich
Vice President: Rossana Lo
Secretary: Margarey Blackburn
Treasurer: Richard Traylor
Parliamentarian: Dusty Rhodes
Editor: Amanda Given
Historian: Lee Boehling

1987-1988
President: Ginger White
Vice President: Katrina Ross
Secretary: Tonia Sanborn
Treasurer: Heather Uthman
Parliamentarian: Michael Puri
Editor: Jayen Desai
Historian: Susan Collins

1986-1987
President: Heidi Deringer
Vice President: Andrea Lewis
Secretary: Robbie Robinson
Treasurer: Katrina Ross
Parliamentarian: Tyler Boyd
Editor: Shelley Sheridan
Historian: Mara Minarik

Also possibly 1991-1992
President: Josh Himwich
Vice President of Contests: Wayne Chang
Vice President of Membership: Tonia Sanborn
Secretary/Treasurer: Robbie Robinson
Parliamentarian: Greg Tenant